Buenos Aires 2018 YOG
When there are just 23 days left until the beginning of the first Olympic Games in history with gender equality, the National Olympic Committee of the organising country of the Youth Olympic Games officially announced the young athlete who will carry the Argentine flag on October 6.
Dante Cittadini, from San Pedro, a city in the province of Buenos Aires, was chosen in a vote that had the participation of 26 team heads from the delegation that will compete at Buenos Aires 2018.
With 14 votes, the Nacra 15 World Champion was selected as the Argentine flag-bearer. Maria Luz Casadevall, an athlete who will compete in weightlifting, and Gisella Bonomi, member of the women's beach handball team, came in next, receiving seven and five votes respectively.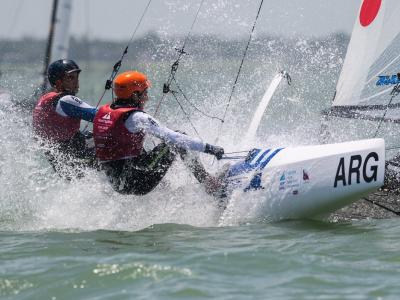 When he was just five years old Cittadini started to navigate in the Optimist category at the Club Náutico San Pedro. His coaches quickly observed his navigational skills, and they were later confirmed when he started to get results at the international level.
After being a two-time junior South American Optimist champion and coming in fourth place in the World Youth Championship in Poland in 2015, Cittadini started training in the 29er category.
It was just at the beginning of this year that he was selected to be part of the Nacra 15 project that would try to qualify for the Youth Olympic Games. Together with Romairone he finished in fourth place at the World Championship in Barcelona 2017, where the pair got the ticket to represent the discipline at Buenos Aires 2018.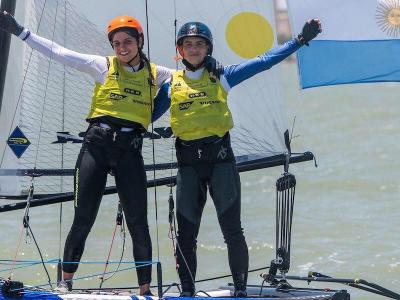 This year Cittadini and Romairone confirmed that they will be big podium candidates in the Olympic Nacra 15 competition: in July they came in first at the ISAF World Championship held in the United States.
A month later, in August, Dante and Teresa travelled to Italy to continue their preparations for Buenos Aires 2018 where they competed in the European Championship in Lake Como. The result? They came in first in the competition that also had the participation of other pairs from the continent who will travel to the Argentine capital to be part of the biggest multisport celebration for young athletes on the planet.
Just as it happened at Singapore 2010 in the hands of Braian Toledo, a gold medallist in javelin throw at the first edition of the Youth Olympic Games and later an Olympic finalist at Rio 2016, and with Sofia Goicoechea, who represented Argentine golf at Nanjing 2014, it will soon be Dante Cittadini's turn to wave the flag during a unique opening ceremony in the history of the Olympic Movement.